If you have written a book and want to publish it. You can easily publish your book on Amazon for free. You may publish paperback hardcover and e-book also on Amazon KPD. After publishing your book will be available worldwide through Amazon platforms. Amazon takes the cost of printing of your book from MRP of book and after deduct the print cost and distribution if you sell paperback versions, publishing via KDP is free. Just follow few steps and you can make a KDP account. Here I am writing here how we can publish book on amazon for free.
Before publishing what to be done:
1. Complete your writing:
Make sure this your manuscript is error free. You need to do complete editing and proofreading of your book. You can take help of any freelancer editor also. Error free literature is good to sell because reader likes only best and error free content.
2. Design your interior pages:
You need to select any page layout on which size you want to publish your book like 5×8, 5.5×8.5, 6×9, 8×11. Amazon have many layouts option to publish book. If you are designing is MS word you need to select margin and paper size.
3. Design you cover:
To design cover, you can go with Canva, CorelDraw or Photoshop. These are best to design cover.
One you finalize your cover and interior files. Here is step to step guide how to publish a book on Amazon KDP:
Step 1 : Open Amazon KDP site
You need to open Amazon KDP site. If you are opening new account, you can click to sign up. Follow few simple steps and fill the details about yourself and upload PAN or TIN number back details to royalty transfer your account will be opened on KDP.
Step 2 : Open Amazon KDP site
Next step you can login the Amazon KDP site. After the fill email or phone number and password you can accept the terms and conditions and click the sign in.
.
Step 3 : Click create to select book format
After the login you will redirect to KDP dashboard. To select book format click create.
Step 4 : Select your format (ebook, paperback, hardcover)
You may select book format according to your choice on which format you want to publish your book. You may select all formats also.
Step 5. Select your primary language
After the selecting book format you need to select your language in which the book is.
Step 6. Enter your book title and subtitle
Book title is very important for book. Readers create impressions about your book the moment they see it, and the title is the first thing they read. According to book title you may choose subtitle also.
Step 7. Fill the Author or contributor (if any) name
Enter the name of the primary author or collaborator. Pen names are permitted. In the Contributors section, you may add more writers. After your book is published, you will be unable to make changes to this section.
Step 8. Select Book Description
Select attractive description for your book. Before purchasing any book reader watch description about the book. You can write description as your book is formed.
Step 9. Select publishing rights and primary audience
To select copyright. If you have written this book by completely your own contents you should select first option. If you have included contents from other sites or Wikipedia or reference book that contents already available on internet you should select second option that is public domain work.
After this you need to select reader's age for your book.
Step 10. Select categories keywords
Next step you need to select your book categories on which subject you have written this book. To key word you should select relevant keywords according to your book category.
Step 11. Select DRM rights
After the save and continue to next step you need to Make certain that DRM is enabled. Digital Rights Management stops anyone from freely duplicating your book and transmitting it to others. Even with DRM enabled, consumers may lend the book to friends for a limited period via Kindle's lending mechanism. They just cannot steal it. You cannot update the DRM settings once your book has been published.
Step 12. Upload your book contents
You may upload epub, doc word, mobi or kpf for ebook. KDP recommend using Kindle Packaging Format (KPF) for best reading experience. You may use kindle create to create your manuscript content with professional book design of images, and content table.
It's not simple to format a book, but doing a decent job is essential if you want your book to seem professional. And eBooks for Amazon must be structured differently than for any other eBook store.
If you already have an epub file and want to preview how it will look as an Amazon book, submit it. After you've loaded the cover file, you may preview it.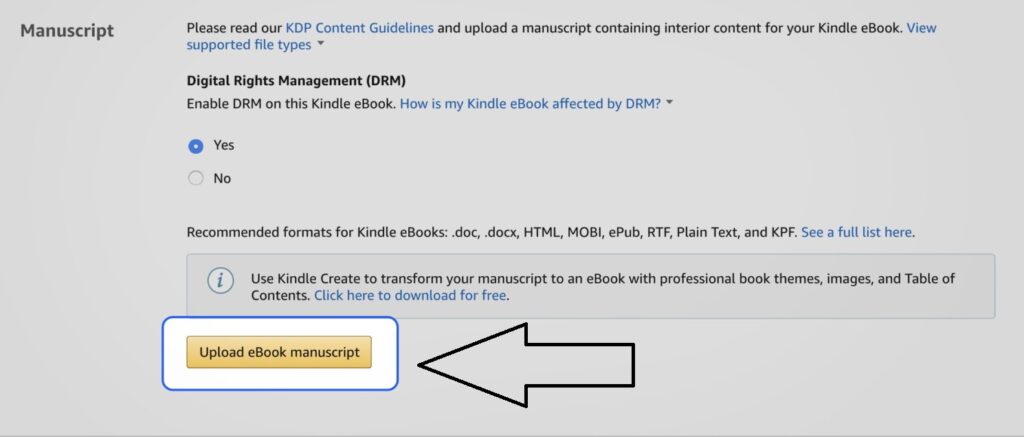 Step 13. Upload your cover
If you want your book will generate good sales, the cover design should be professional and attractive. Hire a professional cover designer for your book. You may upload your cover file here.
Step 14. Preview your book
You may preview your book using the Kindle Previewer after you've uploaded your manuscript and cover. Check out your book online to see how it looks on Kindle and mobile devices. KDP recommends installing the Kindle Previewer to preview books with interactive features.
Step 15. To Select ISBN and publisher
A Kindle eBook does not require an ISBN or a publisher. If you want to just publish on Amazon, leave these fields blank. If you wish to continue, select "Save and Continue" from this menu.
Step 16. KDP Select
You may select this option later also. KDP Select enrols your book in Kindle Unlimited and provides you with extra marketing possibilities such as Kindle countdown deels, free ebook promotions, but your digital edition must be exclusive to Amazon.
Step 17. Choose your territories rights
Select all regions with global rights. When you're ready to publish your book, this will make it available in all of Amazon's global regions.
Step 18. Set book pricing and royalty
Choose between 35% and 70% as your royalty percentage. The 70% royalty will pay more for most authors. for 70% royalty you need to set MRP according to KDP limitations. This is simple, but it introduces expected pricing limitations as well as a somewhat different royalty calculation. Set the list price after selecting Amazon.in as your primary marketplace. Other markets' prices will be based on currency rates, although you may set each one individually if you choose.
Step 19. Save to draft
Click to publish your kindle ebook. You book will be submitted to KDP for review. After 24 hours the review process will be done, and you will receive mail from KDP that your book has been published. When you open your KDP dashboard your book will be live.
FAQ:
Q1. After Being on Amazon, Can I go with Traditional Publisher?
Yes, as long as you maintain ownership of your book. However, it might be challenging for a variety of reasons. If your book hasn't earned the types of sales that a conventional publisher desires (typically due to poor marketing and promotion), they'll be significantly less likely to be interested unless something unusual convinces them that it still has enormous financial potential.
Q2. Can I edit and resubmit my manuscript after publishing if any corrections are there?
You can reupload you cover and interior file after the publishing also.
Final word:
Publishing your book may be the finest thing you ever done for yourself and your profession if you take your time and do it well.