Activity Location: 100 Universal City Plaza, Universal City, CA 91608, United States
Operating Hours: 10:00 AM – 06:00 PM
Activity Duration: 1 Day About Universal Studios Hollywood, Los Angeles
Universal Studios Hollywood, located in Los Angeles, California, is a popular theme park and entertainment centre. It gives you the opportunity to experience Movie Magic On The World-Famous Studio Tour. It offers visitors of all ages an interesting and enjoyable experience. Universal Studios Hollywood brings the fictitious world of Hollywood to life with exciting rides, shows, and attractions based on popular films and television series. Visitors may experience the world of films and get a look into the thrilling world of filmmaking, from heart-pounding roller coasters to behind-the-scenes studio visits. Universal Studios Hollywood has everything for everyone, whether you want action-packed experiences, loved characters, or captivating amazing effects.
Plan your visit to this legendary entertainment place to experience a day of fun and excitement. Discover the thrilling experiences of Universal Studios Hollywood, a well-known theme park and entertainment complex in Los Angeles. This destination brings the fantasy of Hollywood to life with thrilling rides, engaging shows, and attractions inspired by famous films. Experience thrilling roller coasters, behind-the-scenes studio visits, and awe-inspiring spectacular effects. Schedule your trip to Universal Studios Hollywood and have a day of fun and adventure.
About Universal Studios Hollywood Tickets:
Buy Universal Studios Hollywood tickets for the best entertainment adventure.
Enter the enchanted worlds of your favourite films and television series and go behind the scenes on the exclusive Studio Tour.
Immerse yourself in Harry Potter's magical world by visiting classic locales such as Hogsmeade and Hogwarts Castle.
Experience the surge of excitement as you join the Fast & Furious family on a high-speed, cinematic ride.
Enjoy an epic fight between Autobots and Decepticons on an advanced 3D thrill experience.
Go on a martial arts adventure with Po at Dream work Theatre, showing Kung Fu Panda.
Ready for heart-pounding action as you face ancient curses and sinister forces in Revenge of the Mummy.
See an exciting theatrical performance based on the film Waterworld, complete with death-defying stunts and jaw-dropping visual effects.
Become a Minion at Despicable Me Minion Mayhem and experience a fantastic 3D rollercoaster through Gru's supervillain laboratory.
Visit Universal Citywalk, a lively entertainment centre with dining, shopping, and entertainment opportunities.
Buy your Universal Studios Hollywood tickets today to explore a realm of cinematic wonder where your favourite films and characters come to life.
Best Things To Do At Universal Studios Hollywood
1. The wizarding world of Harry Potter:
At Universal Studios Hollywood, enter the wonderful Wizarding World of Harry Potter! Explore Hogsmeade Village, taste delicious butterbeer, and shop for your very own wand at Ollivanders to experience the magical world of Hogwarts. Take an incredible trip through Hogwarts Castle on a broomstick in Harry Potter and the Forbidden Journey. Don't miss the amazing nightly light display, which uses stunning projections to bring the castle to life. Whether you're a die-hard Harry Potter fan or looking for for a wonderful experience, the Wizarding universe of Harry Potter is a must-see location that will transport you into J.K. Rowling's memorable universe.
2. Jurassic world – the ride :
At Universal Studios Hollywood, enjoy an amazing adventure with Jurassic World – The Ride! Ready to be up very close with awe-inspiring dinosaurs as you trek through the famed Jurassic World theme park. Prepare for an exciting river rafting adventure where you'll encounter huge beasts like the Indominus rex and the ferocious T. rex. Experience adrenaline-pumping drops and immersive special effects that will leave you gasping for air. In an action-packed climax, join a team of specialists as they attempt to save the dinosaurs from approaching tragedy. Jurassic World – The Ride gives a memorable and prehistoric experience for guests of all ages, whether you're a fan of the Jurassic World movie or looking for an adrenaline rush.
3. The secret life of pets: off the leash :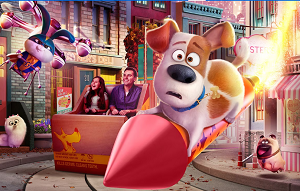 Visit the Universal Studios Hollywood and experience the funny world of The Secret Life of Pets: Off the Leash! Join Max, Snowball, and their furry companions on a whirlwind tour of New York City. Step inside their hidden apartment block to see their wicked adventures come to life. Encounter with lifelike animatronic characters, each with their own idiosyncrasies and characteristics. Follow them on a chaotic ride packed with humour, surprises, and heartwarming moments. Whether you love animals or are a fan of the flicks, The Secret Life of Pets: Off the Leash is a pleasing entertaining experience for the entire family. Prepare to have a tail-wagging fantastic time you'll never forget!
4. The world-famous studio tour :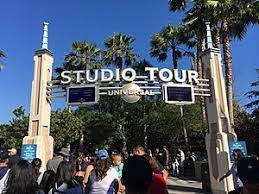 In Universal Studios Hollywood, take the world-famous Studio Tour! Explore the core of the entertainment business from behind the scenes. Take a tram to see the legendary movie sets, soundstages and backlots where your favourite films and TV series were made. Explore the intriguing world of filmmaking via astonishing special effects, jaw-dropping stunts, and immersive 3D experiences. Visit legendary locations such as the infamous Psycho House and the explosive Fast & Furious – Supercharged conclusion. The Studio Tour provides an unparalleled peek into the magic of Hollywood, with skilled guides giving insider information and enjoyable tales. Don't miss out on this must-see spectacle that brings Hollywood to life!
5. Despicable me minion mayhem:
Despicable Me Minion Mayhem at Universal Studios Hollywood will take you on a thrilling journey with the funny Minions! Enter Gru's supervillain laboratory and turn yourself into a Minion. Prepare to go on a crazy and chaotic adventure filled with laughter, fun, and mayhem in your Minion transforming vehicle. Immerse yourself in the colourful world of Despicable Me, a film with cutting-edge 3D animation, fascinating storyline, and interactive components. Meet Gru, his daughters, and the cute Minions who are constantly up to mischief. Despicable Me Minion Mayhem is a must-see attraction for Minion fans of all ages, weather you're a fan of the Minions Me franchise or simply like family-friendly fun.
6. Shopping and entertainment at universal citywalk :
Universal CityWalk, located in Universal Studios Hollywood, is a dynamic world of retail and entertainment. This busy complex caters to guests of all tastes and interests with a variety of dining, shopping, and entertainment opportunities. Visit a range of contemporary shops, boutiques, and brand-name stores for everything from clothes and accessories to one-of-a-kind souvenirs. Indulge in a broad variety of gastronomic pleasures at the many restaurants, cafés, and food booths, which provide a wide variety of cuisines to suit any need. After you've satisfied your hunger, immerse yourself in the vibrant entertainment alternatives, which include live music, concerts, and shows at various places. With its vibrant atmosphere and diverse offerings, Universal CityWalk provides a lively and enjoyable experience for visitors looking for shopping, dining, and entertainment all in one place.
7. Transformers : the ride–3d :
Transformers: The Ride-3D at Universal Studios Hollywood is an action-packed adventure! In this cutting-edge 3D thrill trip, join the Autobots in an epic fight against the Decepticons. Prepare to be thrown into the heart of the Transformers world as you board your NES*T vehicle. As you move through metropolitan cityscapes and alien landscapes, you'll face high-speed chases, fierce battles, and jaw-dropping stunning effects. Feel the rush as you avoid explosions, glide past buildings, and crash with larger-than-life Transformers numbers. Transformers: The Ride-3D delivers an adrenaline-fueled experience with dazzling sights, engaging storyline, and cutting-edge technology. In this exhilarating and spectacular spectacle, prepare to join Optimus Prime and the Autobots in their fight to save the world.
8. Springfield – the simpsons ride :
The Simpsons Ride at Universal Studios Hollywood takes you to the energetic world of Springfield! Join the Simpsons on a humorous and chaotic journey through Krustyland, an amusement park founded by the loving but naughty Krusty the Clown. Hold on tight as you speed through thrilling twists and turns, discovering iconic characters and settings from the popular cartoon series. Immerse yourself in the strange animation, humour, and wit that has made The Simpsons famous. The Simpsons Ride delivers a crazy and fascinating experience for fans of all ages, from Homer's humorous pranks to Bart's follies. Prepare to laugh, scream, and see Springfield as you've never seen it before!
9. Eat at toadstool café :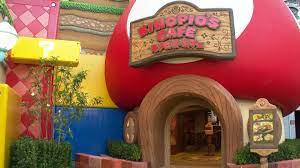 Toadstool Cafe, Universal Studios Hollywood's newest dining attraction, is now open! This highly themed restaurant, located in the interesting Super Nintendo World, provides a delicious mix of American-Italian food. Indulge in great dishes while taking in the outstanding dedication to detail that characterises this restaurant. Although reservations tend to be necessary for both Super Nintendo World and the cafe, the experience is certainly worth it. Even if you're not a huge Super Nintendo World fan, you'll have a great time at Toadstool Cafe. The flavours are delicious, and the immersive setting will take your breath away. Don't miss out on this one-of-a-kind eating experience that provides something you've never seen before.
10. Breeze past the lines with an express pass :
With an Express Pass, you can make the most of your visit to Universal Studios Hollywood! With this Express pass, you can skip the queues and spend more time enjoying the thrilling rides and engaging entertainment. By avoiding the lines at specific rides and attractions across the park, you may avoid long lines and maximise the fun you have. The Express Pass allows you to make the most of your day, whether you're looking for adrenaline-pumping roller coasters or intriguing entertainment. Please keep in mind that the Express Pass is a separate purchase and that availability varies. Don't pass up this time-saving alternatives that allows you to see more of what Universal Studios Hollywood has to give without having to wait in line.
11. Take a photo with a universal studios character :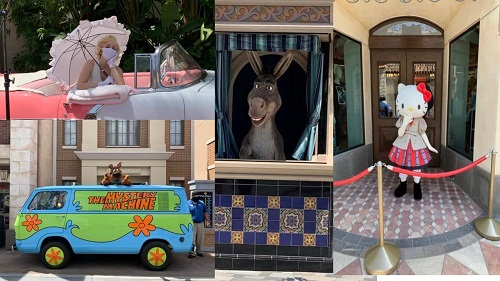 Take a photo with your favourite Universal Studios character to create amazing memories at Universal Studios Hollywood! Get up close and personal with popular characters such as Despicable Me's funny Minions, Marvel's renowned superheroes, and classic characters such as SpongeBob SquarePants. Pose for a snapshot and make lasting memories with these beloved characters who delight and amuse fans of all ages. Keep your camera handy and keep an eye out for character meet-and-greets throughout the park. Don't pass up the opportunity to take a selfie with a Universal Studios character and make your vacation even more spectacular! We've had the pleasure of meeting the following characters at Universal Studios Hollywood:
Scooby-Doo
The Minions & Gru
King Julien from Madagascar
Hello Kitty
Beetlejuice
Shrek & Fiona
Scooby-Doo
Guy Diamond from Trolls
Optimus Prime from Transformers
12. Upgrade to the VIP experience :
Upgrade your Universal Studios Hollywood visit with the VIP Experience, a unique guided tour that assures an unforgettable theme park trip. You'll have priority access to all rides, which means you'll spend less time waiting and more time enjoying the thrilling attractions. Throughout the tour, you'll get exclusive insights and behind-the-scenes information from a qualified guide. Exclusive access to locations normally off-limits to regular visitors allows you to experience the enchantment of the backlot. Enjoy a gourmet lunch as part of the VIP Experience, enjoying great food that adds a touch of luxury to your day. Make the most of your stay at Universal Studios Hollywood by treating yourself to an incredible trip.
13. Upgrade to an annual pass :
Purchase an Annual Pass to enhance your visit to Universal Studios Hollywood! With an Annual Pass, you'll get a lot of perks and unrestricted entry to the park all year. Explore the park at your leisure, returning to your favourite attractions time and time again. Exclusive passholder previews allow you to be among the first to experience new rides, shows, and events. Take advantage of great discounts on meals, retail, and select activities to make each visit that much better. With a variety of options available, you may select the Annual Pass that best meets your needs and explore a world of entertainment and excitement. Upgrade to an Annual Pass to make Universal Studios Hollywood your year-round destination for memorable enjoyment.
14. Seasonal events :
Universal Studios Hollywood has a variety of seasonal activities that are fun for the whole family. The Wizarding World of Harry Potter changes into a wonderful winter wonderland throughout the holiday season, allow to guest to celebrate the season in the captivating world of Hogwarts. It's a fantastic experience for Harry Potter supporters and Christmas lovers alike, with seasonal décor and themed entertainment. Grinchmas also brings the iconic Dr. Seuss character to life, allowing guests to participate in the Who-tacular celebration with live performances, festive decor, and chances to see the Grinch himself. Halloween Horror Nights is an annual event held during the Halloween season for thrill seekers and horror fans. This event offers horrifying haunted mazes, unsettling scare zones, and live acts, making for an intense and immersive experience for anyone looking for a good scare.
During the holiday season, Universal Studios Hollywood also celebrates Holidays, with the park decked up in festive decorations and unique entertainment such as live performances and character appearances. It's a fun and wonderful way to get into the Christmas season while making memories with family and friends.
15. More entertainments :

Universal Studios Hollywood's World-Famous Studio Tour provides a variety of family-friendly entertainment alternatives that are sure to satisfy guests of all ages. WaterWorld is an outstanding live performance based on the blockbuster film that features death-defying thrills, high-octane action, and jaw-dropping amazing effects. Amazing feats will be performed as performers negotiate a large stage loaded with water, pyrotechnics, and aerial acrobatics.
Universal's Animal Actors is a must-see event for animal lovers, where amazing animal stars demonstrate their abilities and delight the audience with astounding stunts and performances. This entertaining show honours our animal companions' extraordinary powers and intellect, from dogs and cats to birds and other furry and fluttery pals. Universal Studios Hollywood goes beyond exhilarating coasters and attractions to provide realistic live performances that bring movie fantasy to life with these fascinating experiences. Make sure to see WaterWorld and Universal's Animal Actors for amazing thrills and chills.
FAQ About Universal Studios Hollywood
When is Universal Studios Hollywood open?
Universal Studios Hollywood is open:
Sun – Sat 10:00 AM – 6:00 PM
How much do Universal Studios Hollywood tickets cost in 2023?
The cost of entrance to Universal Studios Hollywood varies. Entrance prices are presently $108.97, with a popular guided tour starting at roughly $16.73 per person.
What restaurants are near Universal Studios Hollywood?
Restaurants near Universal Studios Hollywood:
(0.15 km) Lard Lad Donuts
(0.15 km) Starbucks
(0.10 km) Three Broomsticks
(0.16 km) Starbucks
(0.14 km) Krusty Burger
How to Buy Universal Studios Hollywood Discount Tickets?
To Buy tickets in discounted price see this : Click here