The top 10 automobiles in the world are difficult to categorically name because rankings and views can differ greatly based on elements including price, performance, luxury, design, and luxury. However, a few automobile models that are frequently regarded as some of the greatest in the world include:
It's important to note that this is not an official ranking, and the list would be different based on different parameters and criteria.
1. Bugatti Chiron
Bugatti Automobiles S.A.S. manufactures the premium supercar known as the Bugatti Chiron. It was initially presented in 2016 as the Veyron's replacement. An 8.0-liter W16 quad-turbocharged engine powers the Chiron, producing 1,479 horsepower and 1,180 lb-ft of torque. This enables the automobile to sprint from 0 to 60 mph in only 2.4 seconds and achieve a peak speed of 261 mph (420 km/h). Advanced aerodynamics and a lightweight carbon fibre monocoque body are further aspects of the vehicle. The initial price of the Chiron is about $3 million.
Here are some key features and specifications of the Bugatti Chiron:
Engine: 8.0-liter quad-turbocharged W16
Power: 1,479 horsepower
Torque: 1,180 lb-ft
Top speed: 261 mph (limited)
0-60 mph: 2.3 seconds
Transmission: 7-speed dual-clutch automated manual
Drivetrain: All-wheel drive
Curb weight: 4,398 pounds
Length: 185.7 inches
Width: 80.9 inches
Height: 47.8 inches
Base price: Around $3 million
The Chiron is formed of a carbon fibre monocoque that was built using the most cutting-edge composite technology, making it both extraordinarily rigid and light.
The Chiron is a Bugatti-exclusive vehicle with a huge, extended horseshoe-shaped grille and elegant, aerodynamic lines across its body. The opulent inside has top-notch materials, cutting-edge technology, a digital instrument cluster, and an entertainment system.
2. Lamborghini Aventador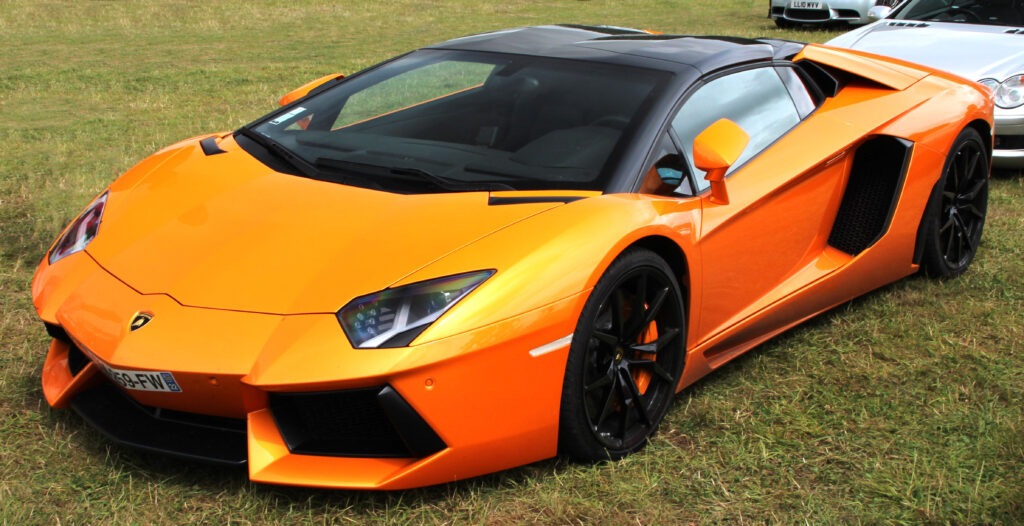 High-performance sports cars are created by Italian carmaker Lamborghini under the name Aventador. The Murciélago, the former flagship model of the firm, was replaced with the Aventador in 2011.
The vehicle has a monocoque carbon fibre construction and a 6.5-liter V12 engine. The engine can generate a maximum of 690 Nm of torque and 700 horsepower. The vehicle has a peak speed of 217 mph and can accelerate from 0 to 60 mph in under 2.5 seconds.
The Aventador is offered in two primary configurations: the LP 700-4 and the SVJ. The car comes in two versions: the basic LP 700-4 and the track-focused SVJ, which has better aerodynamics and a more powerful engine.
The vehicle sports an All Wheel Drive system and a 7-speed semi-automatic transmission. The company's "Fighter Jet" motif had a significant impact on the Aventador's external styling. The vehicle has aggressive style, angular lines, a low profile, and big air intakes to cool the engine.
The car's interior is as remarkable, featuring a cockpit-style design and a concentration on premium components like leather, carbon fibre, and aluminium. A variety of cutting-edge technologies, including as a touch screen infotainment system and a top-notch sound system, are included with the vehicle.
The starting price for the base LP700-4 model is around $421,000, while the starting price for the SVJ variant is roughly $517,000 and can go higher depending on the accessories and customisation.
3. Ferrari 488 Pista
High-performance sports automobile made by Italian automaker Ferrari is called the 488 Pista. It was debuted at the 2018 Geneva Motor Show as the Ferrari 488's track-oriented version.
A 3.9-liter twin-turbocharged V8 engine with 710 horsepower and 568 lb-ft of torque powers the Pista. As a result, the vehicle can accelerate from 0 to 60 miles per hour in 2.85 seconds and have a peak speed of more than 211 mph.
A carbon-fiber bonnet, front and rear bumpers, and side sills are among the car's other aerodynamic and lightweight design characteristics. Additionally, the Pista has a set of 20-inch forged wheels that are lighter than those on the regular 488.
With several carbon-fiber accents, the interior has a sporty cabin design. Power-adjustable seats, dual-zone temperature control, and an infotainment system with a big touchscreen display are all included as standard features.
Both a manual and automatic transmission were offered for the 488 Pista, the latter of which featured a 7-speed dual-clutch transmission with F1 design inspiration. The 488 Challenge race vehicle's carbon-fiber racing seats were an available option for the automobile.
The new Ferrari F8 replaced the 488 Pista in production until 2022. It is still a valuable collectable and a strong track performer.
4. McLaren 720S
High-performance sports automobile made by McLaren Automotive is called the 720S. It made its debut in 2017 as the McLaren 650S's replacement. The 4.0-liter twin-turbocharged V8 engine that powers the 720S delivers 710 horsepower and 568 lb-ft of torque. It is housed in a carbon fibre monocoque chassis. The vehicle has a peak speed of 212 mph and can accelerate from 0 to 60 mph in 2.8 seconds. The vehicle sports a rear-wheel drive system, a 7-speed automatic transmission, and Brake Steer technology.
The 720S sports a variety of cutting-edge aerodynamic technologies, including as the AeroBlade, which employs air channels within the body of the car to decrease drag and enhance downforce, and active air management, which reroutes airflow for optimal downforce.
The McLaren 720S's minimalist cabin is geared at the driver and has a variety of cutting-edge amenities including a digital instrument panel and a central infotainment screen. Other driver aid and safety features of the vehicle include parking sensors, an automated emergency braking system, and a rearview camera.
5. Porsche 911 Turbo S
Porsche AG produces the high-performance sports automobile known as the 911 Turbo S. It is a member of the company's 911 portfolio, which includes a number of high-end sports vehicles. A more powerful variant of the normal 911 Turbo is the Turbo S model.
The 3.8-liter flat-six engine in the 2021 Porsche 911 Turbo S generates 640 horsepower and 590 lb-ft of torque. It can go from 0 to 60 mph in 2.6 seconds and has a peak speed of 205 mph.
The vehicle has a 7-speed dual-clutch transmission and all-wheel drive. A variety of cutting-edge technological innovations are also included in it, including Porsche Active Suspension Management, Porsche Stability Management, and Porsche Torque Vectoring Plus.
The 911 Turbo S is a sleek, aerodynamic body that has a unique appearance that makes it easy to identify as a Porsche. It comes in a coupe or cabriolet body style and has a 2+2 seating layout (convertible).
6. Mercedes-Benz S-Class
Mercedes-Benz, a part of Daimler AG, manufactures the Mercedes-Benz S-Class, a premium vehicle. It is renowned for its high standard of comfort, cutting-edge technology, and elegant, refined design. The sixth generation of the S-Class, which has been manufactured since the 1950s, is now available (W223).
The S-Class is available in a variety of body types, including as a sedan, coupe, convertible, and long-wheelbase sedan (designated as the "S-Class Maybach"). Additionally, it comes with a selection of engine options, including both gasoline and diesel models.
The S-Class comes with a number of cutting-edge technological innovations, including active safety systems, capabilities for partially automated driving, and the most recent infotainment and networking choices. A panoramic sunroof, leather upholstery, and a premium audio system are frequently included as standard amenities.
Some cutting-edge features and technologies, such Magic Body Control, E-Active body control, and many more, are available depending on the market and particular model.
The S-Class is frequently utilised as a showpiece automobile for Mercedes-Benz and is regarded as one of the most distinguished vehicles in the luxury market.
7. Audi R8
The German carmaker Audi AG originally unveiled the high-performance luxury sports automobile known as the Audi R8 in 2006. Both the Coupe and Spyder (convertible) body types are offered. The most potent version of the R8's V10 and V8 engines, which generate 602 horsepower and 413 lb-ft of torque, are available. All-wheel drive and a 7-speed S Tronic dual-clutch gearbox are included as standard equipment. The vehicle can go from 0 to 60 mph in roughly 3.2 seconds and has a peak speed of around 205 mph. The R8 is renowned for its eye-catching appearance, premium interior, and superior performance.
8. BMW M8
BMW produces the high-performance luxury coupe known as the M8. It is the flagship model in the 8 Series portfolio and is offered in both coupe and convertible body types. A 4.4-liter V8 engine with 600 horsepower and 553 lb-ft of torque powers it. It has an eight-speed automatic transmission and can reach 60 mph from 0 in around three seconds. A variety of performance-oriented technology are also included in the M8, including a sophisticated suspension system, powerful brakes, and an adjustable exhaust system. The M8 has a roomy, lavish interior with a multitude of high-tech amenities, including a large touchscreen display, a top audio system, and many cutting-edge driver aid systems.
Some of its key features include:
4.4-liter V8 engine with 600 horsepower and 553 lb-ft of torque
8-speed M Steptronic transmission
All-wheel drive (M xDrive)
Adaptive suspension
M-specific brakes
Sport exhaust system
M-specific steering wheel and instrument cluster
Available in both Coupe and Convertible body styles
numerous safety features include lane departure warning, blind spot detection, rear cross-traffic alert,frontal collision warning,City collision mitigation.
Additionally, the BMW M8 comes equipped with the latest technology features such as a large touchscreen display, a head-up display, and a premium sound system.
9. Ford GT
A high-performance sports automobile, the Ford GT made its debut in 2005. The vehicle was created to celebrate Ford's 100th birthday and to highlight the technical prowess of the organisation. The supercharged 5.4-liter V8 engine that powers the rear-wheel-drive, mid-engine Ford GT delivers 550 horsepower and 500 lb-ft of torque. A 6-speed manual gearbox is included. The vehicle can accelerate from 0 to 60 miles per hour in under 3.5 seconds and has a peak speed of almost 200 miles per hour.
The body of the Ford GT is made of lightweight materials like aluminium and carbon fibre, and it includes active aerodynamics for better handling and performance. Along with other cutting-edge features, the automobile has a pushrod suspension, Brembo brake callipers, and a completely digital instrument panel. Additionally, the automobile has a relatively low ground clearance, which gives it an aggressive and dynamic appearance.
With a constrained manufacturing run of 4,038 units, the Ford GT's first generation was built from 2005 to 2006. The Ford GT's second version, which debuted in 2016, features an improved exterior and a more powerful engine. A twin-turbocharged 3.5-liter V6 engine with 647 horsepower and 550 lb-ft of torque fueled this new model. Second-generation Ford GT manufacturing started in 2017 and finished in 2020. It was made for a short period of time as well.
10. Chevrolet Corvette
The General Motors subsidiary Chevrolet produces the Chevrolet Corvette, a sports automobile. Its eighth generation has now been developed since its initial release in 1953. The vehicle features a range of engines, including V8s and V6s, and both manual and automatic transmissions are available. It is offered as a coupe or a convertible and has both rear-wheel and all-wheel drive. The Corvette is well known for its potent output, fashionable exterior, and cutting-edge technology. Since its introduction, it has grown in favour with drivers and racers, and during the course of its existence, it has received several honours.
Some features of the Chevrolet Corvette include:
Rear-wheel drive
Available as a convertible or a coupe
High-performance V8 engine
Available manual or automatic transmission
Available in various trims, including the Stingray, Grand Sport, and Z06
Advanced suspension and braking systems
Available with advanced technology and safety features, such as a rearview camera and a head-up display.
The latest C8 model has a mid-engine layout rather than the traditional front-engine layout which improved the performance considerably.
If you are looking for electric bikes you must check out this list for The 15 best electric motorcycles in the World.
Conclusion:
Luxury cars, also known as premium or high-end cars, are viewed as status symbols and serve several purposes for their owners. They often cost more than regular cars and provide more features, comfort, and performance. These automobiles are also recognised for their superior quality of build, toughness, engineering, and design.
Some people buy expensive automobiles as a status symbol, to demonstrate their achievement and money. Others merely view the luxury automobile as a mark of good taste and fashion. Business owners and executives can also utilise them to present a professional image or leave a favourable impression on clients.
Additionally, premium vehicles frequently include stronger safety features like adaptive cruise control, lane departure alerts, and sophisticated braking systems, which may provide drivers and passengers more peace of mind.
In general, luxury vehicles might not be a need for many individuals, but they can provide a degree of status, performance, and comfort that may be attractive to certain customers.