Best websites to visit for civil service preparations:
We all know that nowadays, one in five young people in India aspires to pursue a career in the public service. They want to serve their country by becoming IAS, IPS, or IFS officers, among other officer ranks. I'll provide the top 10 best websites for UPCS preparation in this article.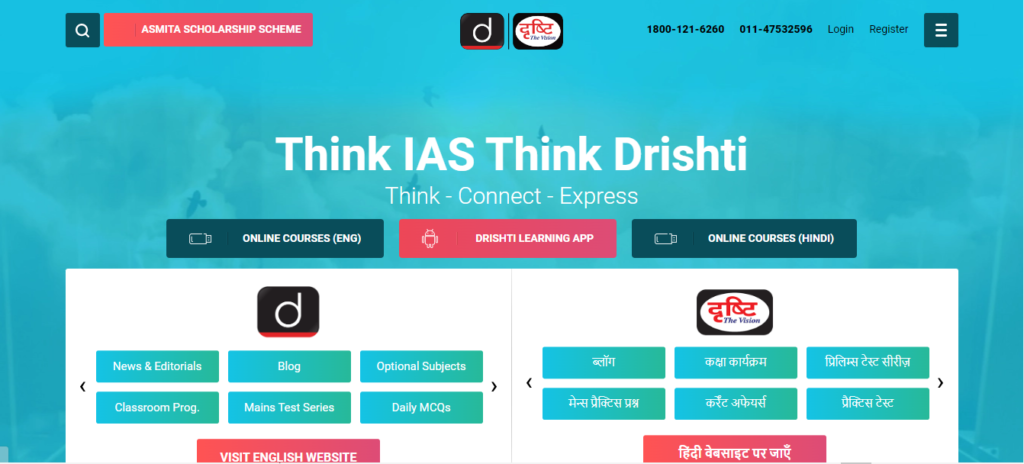 First in this list we have Drishti IAS. I will say it is one of top choice for preparing Civil Service exam by UPCS aspirants. Drishti The Vision was founded by Dr Vikas Divyakirti and Dr Taruna Verma in 1st November 1999. The complete focus of the institute is only on aspirants. Who are preparing for the UPSC (Civil Service). You may get information in English and Hindi.
Our next most visited website by Civil service aspirants is Studyiq. they provide and cover all important topics related to mains and prelims exam in their You Tube videos with almost free of cost. It was founded in 2014 by Abhishek Jain and become one of the fastest growing test preparation platforms for government employment exams.
Third in this list we have Vision IAS. It is India's premier research, and training coaching institute which helps UPCS aspirants to achieve their dream post in Civil Services. Director and founder of this institute is Ajay Kumar Singh, he completed his graduation in B. Tech from IIT Roorkee. Again, one of the best institutes to designed only for IAS aspirants. Website to Visit:
Next in this list we have one of the trusted and best websites to visit by all young readers. India's first learning app which is recognised at global level. It was Founded in 2011, Bengaluru by Byju Raveendran and Diviya Gokul Nath. Their mission is to make high- quality learning easy and accessible to student everywhere.
Again, our next website is listed best for all the IAS aspirants who wants a clear guidance outside classroom coaching. Mr. Alex Andrews George is the founder and director of this most popular online learning platform in India. He is a mentor, author, social entrepreneur and proficient in training, technology and academics.
our sixth most liked website by UPSC aspirants is Insights on India IAS. They provide every content; initiative is free for Prelims test. Archana Batra Patel is the founder and Director of Insights on India.
Again, most liked and visited website by students and various competitive aspirants Unacademy. India's most trusted online educational platform, founded by Roman Saini, Gaurav Munjal, Hemesh Singh in year 2015 located in Bengaluru. They provide best learning faculties and resources for UPCS Exam. Most of the IAS aspirants prefer to take notes and online classes from here. Now Unacademy becomes India's largest online learning app.
Next in our list we have Civil Service India. it is a website which give all dedicated content related to Civil Services exam which is conducted by UPSC. They have students to clear their Prelims as well as focus on their Mains. They provide almost free preparation resources with previous years paper.
Once again, Civils Daily is the most well-liked and beneficial website for UPSC aspirants. The New Delhi-based startup was established in 2015 by Shikhar Sachan and Rohit Pande. They also provide free one-on-one coaching sessions that follow a broad preparation strategy.
Number 10 in this we have IAS score. It is also one best website for all civil services aspirants, initiative by GS score. They are best to known for their UPCS online coaching located in Delhi. They provide free study materials and open mock test which is easy for all students to take and prepare for there dream post. For more related information you can visit their website which is link in below.
All candidates for the civil service will, I hope, find these websites useful. Someone is interested in learning more but does not have access to sufficient websites and resources to research and prepare for their ideal profession.