Berlin, the vibrant and historic capital of Germany, offers a diverse range of experiences for travellers. Whether you're exploring its rich history, indulging in its culinary delights, or immersing yourself in its lively arts scene, Berlin has something for everyone. And the good news is, you don't have to break the bank to enjoy a comfortable stay in this remarkable city. In this article, we'll explore the top 10 best hotels in Berlin that offer excellent value for money, ensuring you have a memorable stay without overspending.
1. Generator Hostel Berlin Mitte
First name in this list is "Generator Hostel Berlin Mitte" Located in the heart of Berlin, this trendy hostel offers stylish dormitory and private rooms at affordable rates. With its lively atmosphere and modern amenities, it's a favourite among budget-conscious travellers.
2. MEININGER Hotel Berlin Alexander Platz
Second name in this list we have MEININGER Hotel Berlin Alexander Platz. This budget-friendly hotel is just a stone's throw from the iconic Alexander Platz. Clean and comfortable rooms, coupled with a convenient location, make it an excellent choice for tourists.
3. Moxy Berlin Ostbahnhof
Next name in this list is Situated near the East Side Gallery and the Mercedes-Benz Arena, Moxy Berlin Ostbahnhof. It offers chic and compact rooms with a focus on affordability. It is perfect for those who want to be in the midst of Berlin's trendy neighbourhoods.
4. B&B Hotel Berlin-Alexander Platz
Next, we have budget friendly hotel is an excellent option for travellers looking for a comfortable place to rest without compromising on location. It's walking distance from Alexander Platz, offering easy access to public transport.
5. Hotel AMANO
Hotel AMANO, nestled in Berlin's trendy Mitte district, is a contemporary haven for travelers seeking style and affordability. With its sleek design and urban charm, it offers a unique blend of comfort and sophistication. The hotel boasts a rooftop terrace with stunning city views, providing a perfect spot to unwind after exploring Berlin's vibrant streets. Its central location allows easy access to iconic landmarks and cultural hotspots. Hotel AMANO's modern rooms and welcoming ambiance make it a popular choice for those who appreciate a chic and affordable place to stay while experiencing the eclectic energy of Berlin.
6. Ibis Berlin Hauptbahnhof
Ibis Berlin Hauptbahnhof is a budget-friendly gem strategically situated near Berlin's main train station, Hauptbahnhof. This hotel offers affordable accommodation without compromising on comfort and convenience. The modern and well-designed rooms provide a comfortable retreat after a day of exploring the city's attractions. With its central location, guests have easy access to Berlin's excellent public transportation network, making it a perfect base for city exploration. Whether you're here for business or leisure, the hotel's value-for-money proposition, friendly service, and proximity to key landmarks make it an excellent choice for travelers seeking a budget-friendly yet enjoyable stay in Berlin.
7. Holiday Inn Express Berlin City Centre
If you're seeking comfort on a budget, this hotel is a great choice. With complimentary breakfast, comfortable beds, and a convenient location near Checkpoint Charlie, it's an attractive option.
8. a&o Berlin Friedrichshain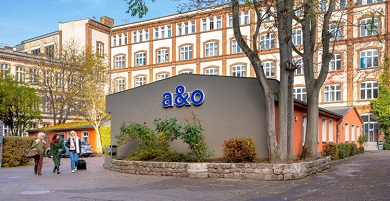 a&o Berlin Friedrichshain is a versatile and budget-friendly accommodation option nestled in the vibrant Friedrichshain neighborhood of Berlin. This hostel-hotel hybrid offers an array of lodging choices, from dormitories for budget-conscious travelers to private rooms for those seeking more privacy. Its lively atmosphere and communal spaces create a social environment for guests to connect and make new friends. The location is ideal, surrounded by trendy cafes, bars, and cultural attractions. With affordable rates, modern amenities, and a youthful ambiance, a&o Berlin Friedrichshain is the perfect choice for budget travelers looking to experience the energetic and creative side of Berlin.
9. MEININGER Hotel Berlin East Side Gallery
It's a unique and budget-friendly accommodation option in Berlin, located right next to the iconic Berlin Wall East Side Gallery. This hotel blends modern comfort with historical significance, offering guests the opportunity to stay amidst one of Berlin's most iconic landmarks. The hotel features contemporary rooms that cater to various traveler needs, from private rooms to dormitories. With its vibrant atmosphere and proximity to the city's cultural and nightlife hubs, MEININGER Hotel Berlin East Side Gallery – I is an excellent choice for budget-conscious travellers seeking a memorable Berlin experience deeply intertwined with the city's history.
10. H2 Hotel Berlin-Alexander Platz
Last name we have H2 Hotel Berlin-Alexanderplatz a fantastic choice for travellers seeking both affordability and convenience in the heart of Berlin. Located just a short stroll away from Alexanderplatz, this budget hotel offers comfortable and modern rooms, making it a great value for your stay. Its prime location allows guests to easily access iconic landmarks, shopping, and dining options in the vibrant Alexanderplatz area. Whether you're in Berlin for business or leisure, H2 Hotel provides a welcoming atmosphere and practical amenities, ensuring a pleasant stay while exploring the city. Enjoy Berlin's energy and culture without compromising your budget at H2 Hotel Berlin-Alexanderplatz.
Conclusion
Berlin, known for its history, culture, and vibrant atmosphere, can be enjoyed on a budget without compromising on quality. These top 10 budget-friendly hotels in Berlin offer a range of options for travelers looking to explore the city without breaking the bank. From trendy hostels to comfortable hotels, you're sure to find the perfect accommodation for your stay in this dynamic European capital. Enjoy your time in Berlin without worrying about the price tag!
Read This Also:
The Ultimate Guide to Find Top 20 Hotels in Australia – The Rise Insight