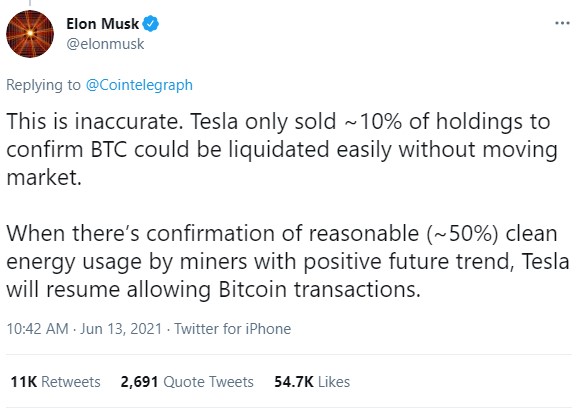 Elon Musk, dubbed the "Dogefather," issued his ultimatum on Sunday.
It's not difficult to see why. It's critical to take the lead when your company's goal is to reduce fossil fuel consumption. Elon Musk's comments about Bitcoin are the clearest example of just how powerful he is.
Elon Musk has a lot of things to be proud of, and one of them is this move. Whatever our own opinions are, he purposefully accepted a risk in order to take a stand.
He's also not incorrect. Bitcoin manufacturing (or mining) is projected to emit 22 to almost 23 million metric tonnes of carbon dioxide per year, according to reports. According to this study, that's midway between Jordan and Sri Lanka's annual production.
So it's understandable that the owner of an electric vehicle firm, which was created to reduce emissions, would wish to cease getting money from a company that produces them.
When was the last time a millionaire done something positive for the environment? Perhaps, like Elon's backing for Doge, it's all part of a bigger picture, one that's woven into Musk's future renewable energy ambitions. Perhaps his struggle with Bitcoin's price, which has inspired so many others to become want tobe crypto bull wranglers, serves a greater purpose…
Elon Musk's Real Reason for Targeting Bitcoin Miners
Observing the repercussions of Elon Musk's tweets is like going down a rabbit hole. You eventually learn about his intention to construct the world's greatest virtual power station. Musk announced an ambitious proposal to power 50,000 households in South Australia with free solar panels and Tesla batteries over the next four years, starting in 2022. This is expected to meet 20% of the state's daily energy requirements. This might save the households involved up to 30% on their energy expenditures.
Is it really far-fetched to think that Elon Musk's comments concerning crypto mining emissions are part of a larger plan? Is it possible that Musk will issue a future tweet announcing the establishment of a sustainable crypto mining company? Perhaps he'll use his company's goods as leverage to persuade politicians. It's almost as if he's saying, "If you're not sustainable, you're doomed!"
It's akin to the ancient idea of holding a monopoly on something and only selling it to people who satisfy specific conditions. As a result, Elon Musk is the world's first 'Robinhood Baron.'
The Final Word
Finally, it appears that the golden rule is to follow the money. Dips in crypto like BTC can be beneficial, especially if it means more individuals will be able to participate in the crypto markets.
Elon Musk is entirely correct. By forbidding cryptomining pollution, he hopes establishes a precedent for others to follow.
As the EV boom continues to gather traction, investors seeking for a way to diversify their portfolios should look to lithium stocks. Perhaps TSLA (NASDAQ:TSLA) won't be the first cryptocurrency-backed electric vehicle.