Self Publishing in India: An Introduction
The entire process, from book writing to book publication, is a task that requires tremendous effort. It is challenging and requires the right decision-making when situations arise. These situations can range from selecting the words to be used for writing to choosing the publishing house for editing, proofreading, publishing, promoting, and marketing to ensure it reaches the right readers and gets its deserved recognition. The decision of the book's publishing house in India is crucial to this trip and affects both the book's and the author's outcome. We explored the big names in the business and the topics they have chosen to publish in our prior piece on the many conventional publishers that are actively engaged in book publication. In this article, we will learn about some best self publishing companies in India.
Sometimes, even when a manuscript is substantial and promising, it does not get through and reach traditional publishers to achieve the book form that it rightfully deserves to be in. As times changed, the number of such books increased, and deserving authors could not get their chance to be published. Hence, the concept of self publishing in India evolved. Ever since its inception, the concept of self-publishing has given opportunities to many authors to explore their capabilities as writers and connect with their readers by writing different titles.
Get Free Publishing Guide
Why Self Publishing in India?
Harry Potter is a book series that is popular among people of probably all ages. Everyone would be familiar with one book or the other. But few people would know that J.K. Rowling, the author of this series, is a self-published author? This example explains that authors have potential, but it isn't necessary that it is always recognized by traditional publications.
Self Publishing has evolved as a platform that has given abundant opportunities to aspiring authors and those who may not have the time to wait to get published traditionally. Probably it is due to the success of this new concept that some self-publishing houses have even begun their journey as traditional houses. However, this is in the early stages.
Benefits of Self Publishing in India
As tempting as Self Publishing may sound, many would have the question of the benefits it has. Apart from saving time to your gateway to success, self-publishing is of great benefit because:
Everything is available online, which saves the trouble of going to a publication house for a visit.
It is economical as different packages are available depending on the budget and your book.
There is a guarantee of 100% royalty. The publication houses do not have any share in the royalty amount, and this is clearly disclosed in the contract you will sign.
Apart from the royalty, authors also have complete control over the book creation from scratch to finish. They can also be an equal participant in the promotional and marketing strategies of their book by being in active correspondence with their publishers.
The process of book publication is smooth, easy to understand, and hassle-free. This has facilitated senior authors who are not tech-savvy and may not be entirely aware of the use of technology.
Since it all is online, the process becomes fast, and you can get your books published in a very short time.
Process of Self Publishing in India
In comparison to traditional publishing, the process of self publishing in India is easier, simpler, and quicker. It takes less time and has a smaller number of steps. This is the reason that self publishing is becoming increasingly popular among authors now. In this growing time of digitization, self publishing offers the opportunity to learn online as the author walk through the process without taking the pains to go to the publication house physically. Video chats and calls have facilitated this process further.
So what exactly is the process of self publishing in India? It's simple.
Survey in the market (or online) about the different publishers available and also their market image by checking out the testimonials.
Select your publisher based on various criteria like your budget, the market image of the publisher, and the packages and facilities offered by the publisher.
Contact the publisher who you think will be the right choice for publishing.
Get suggestions for edits and proofreads (it is advisable to get it done as the publisher can suggest better based on their experience).
Typesetting/formatting as per kindle or paperback edition.
Design the cover (or get it designed). The more attractive the cover, the more chances of it being chosen to be read. Write the author's bio (and don't forget to share your past books and future plans)
Get it published and definitely ask for your author's copies
Self Publishing Companies in India
Now that you've made up your mind to try self publishing, this article has made an effort to make your research easier by compiling a list of the top 10 self publishing businesses that are well-known for their work and command significant positions in the publishing sector:
1. Evincepub Publishing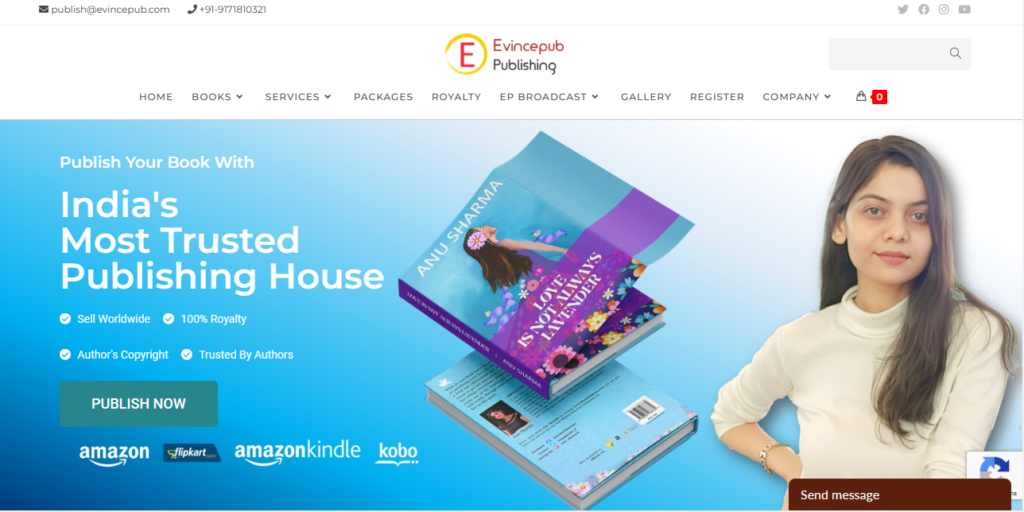 Evincepub Publishing, which was established in 2016, has long been a well-known brand in the industry. Along with offering team assistance around-the-clock, they also publish books in genres including fiction, non-fiction, travelogues, biographies, and any other genre that allows them to explore further and learn more about their customers' tastes.
Along with working with various writers, Evincepub also offers several packages based on the needs of authors, which are appropriate for all aspiring authors. Over the years, Evincepub has published a lot of blockbusters. At Evincepub Publishing, bestselling writers like Saniya Inamdar, Arvind Narsima, Aditya Raj Kapoor, Pankaj Lochan, and others have become household names.
Website Link: https://evincepub.com/
2. Cinnamon Teal
Demand book printing is a service that Cinnamon Teal provides, meaning that books will be printed as needed and according to the specifications of the author. This magazine, one of the first to use self-publishing, has been around since 2007. They provide the facility for on-demand book printing since they have upgraded their services throughout time to meet changing needs.
Cinnamon Teal has a global network for the distribution of the books produced under their brand in addition to the capacity for producing books on demand. In English, Hindi, Bengali, and other languages, they have released several children's book, academic, and poetry titles.
Website Link: https://cinnamonteal.in/
3. Pothi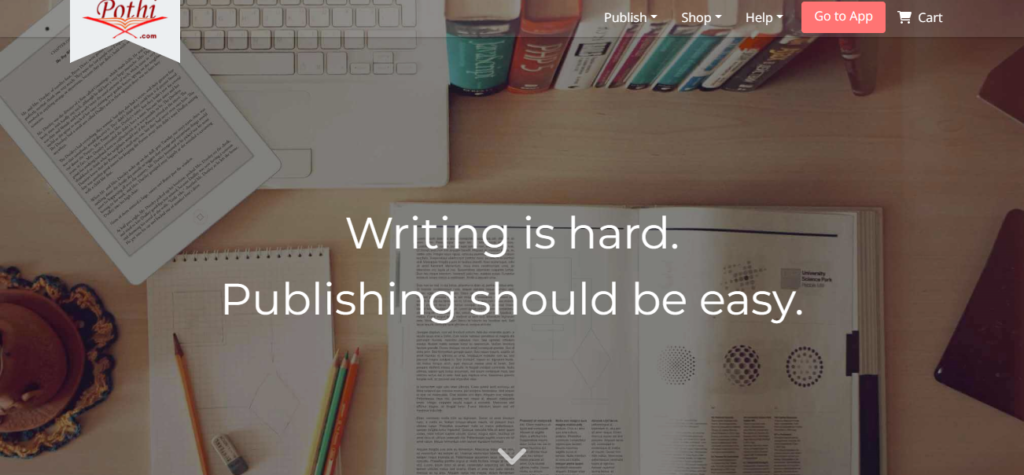 Pothi operates on the idea that writing is hard and publication should be easy. Hence, they offer a simplified process, thus publishing more than 18,000 titles to date. Among these titles, Pothi has published in categories like history, academics, life-changing topics like acing the interview, children's books, and many more.
Founded in 2008, Pothi has a team of dynamic young individuals who understand the struggles authors face, and hence, they try to respond as soon as possible to all queries. This has made book publishing easy and convenient for authors.
Website Link: https://pothi.com/
4. Online Gatha
Online Gatha Publications was founded in 2014. It strives to be among the spearheads of book publication going online and to be an instrumental part of this transition. Having testimonials of the team being helpful, the team strives to make its services available as soon as possible.
The publishing house gives a step directly into online book publication to its clients and is the bridge between the online and offline world of hard copies and paperbacks.
Website Link: https://www.onlinegatha.com/
5. Think Thank Books
An author would understand the struggles of an author. Think Thanks books is a product of that. The publication house, founded by the author Gaurav Sharma in 2017, was created to facilitate authors in the book publishing process. While offering publication services, the publication also recommends books for the authors who also are readers.
In addition, they also offer to edit a sample of 200 words for free so that the authors can understand the quality of their services and connect directly with the founder for any assistance.
Website Link: https://thinktankbooks.com/
6. BFC Publications
BFC Publications has been active since its creation. Its team consists of dynamic experts. Their website explains the publication process so that the authors can check and understand the process on their own and have no doubts about it. After reading the process, they can also find details of the different packages available and hence make their decision after taking their time and thinking about it.
While featuring different titles on fiction and non-fiction, BFC also has the answer to different author FAQs and clear the questions that many would have.
Website Link: https://bfcpublications.com/
7. Authors Ink
A household name, Authors Ink publications have been in the field for some time but feature different genres as well as authors. A noteworthy thing about this publication is that they publish the same authors regularly. Probably it is because of their services, as the testimonials say.
The publication has featured books on romance, sports, spirituality, horror, thriller, etc. The website has the facility for authors to connect with the publication directly regarding their queries.
Website Link: https://www.authorsinkindia.com/
8. Partridge Publishing
Partridge Publishing was founded in 2013. In its work of almost a decade, Partridge has improved and evolved as per the changing needs of time and provided the facility of supported self-publishing.
Due to its long time in the publication field, Partridge has published a wide variety of titles in both English and Hindi languages, which cover the categories of spirituality, women's literature, children's books, economics, and many more.
Website Link: https://www.partridgepublishing.com/en-in
9. Buuks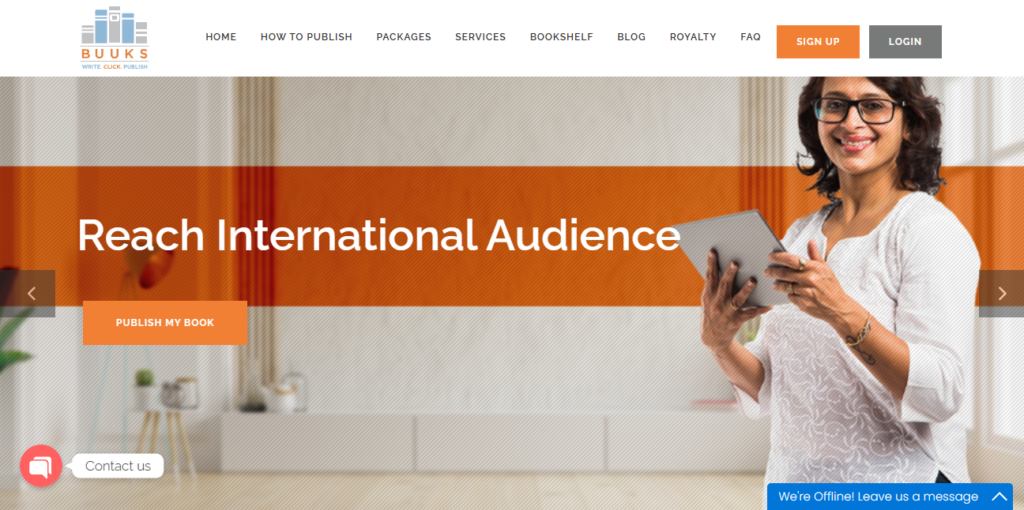 Buuks is probably the only publication that displays author benefits on the site directly. With 13 years of experience and publishing 4 million titles, Buuks shares the plan details on its website, from which authors can select on their own.
Buuks has published titles in different languages and various categories like motivation, religion, spirituality, life lessons, environment, skill development, success stories, and many more such diverse titles.
Website Link: https://www.buuks.com/
10. 24 x 7 Publishing
24×7 publishing gives a platform to publish both kindle and paperback formats and publish books in 14 days. Aiming to facilitate a global base of authors, the publication is available 24 hours a day and 7 days a week.
Founded in 2013, the publication has many titles in its name while giving complete control to the author and making the publication process hassle-free.
Website Link: https://www.24by7publishing.com/
Although these companies are not the only ones in the field of self publishing, many more are working well. However, since these companies have been in the field for some time, they are reliable and trustworthy in terms of quality as well as performance. Self publishing in India may be a new concept in the world of publishing, it is the future of the publishing industry.