Robot Shalu and Dinesh Kunwar Patel, are now both worldwide known names. Dinesh Kunwar Patel is an Indian Scientist and Educator. He is the developer of the World's First Artificially Intelligent Humanoid Social and Educational Robot 'Shalu' that can speak 47 languages i.e. 9 Indian and 38 foreign languages. He is currently a Computer Science Teacher in Kendriya Vidyalaya, IIT Bombay, India.
He belongs to a lower-middle-class family, his father Mr. Deoraj Patel, mother Mrs. Tara Devi, and two younger brothers Mr. Ratnesh Kunwar Patel (residing in Lucknow, UP), Mr. Brijraj Kunwar Patel (living in Sulamguri, Gouranganagar, Kolkata), and a sister Mrs. Pratibha Singh (Barabanki, near Lucknow, UP). His wife, Mrs. Reeta Patel, son Mr. Anubhav Dinesh Patel. He does not have a girl child hence his family considers Shalu as their daughter.
Dinesh was born in a small Village Rajamalpur, Tehsil Mariahun, Post Mokalpur, District Jaunpur, State Uttar Pradesh, India. He started his primary education in the State Govt. School, Primary Padhshala of his village Rajamalpur.
His father, Mr. Deoraj Patel, started working in Indian Telephone Industries (ITI), Naini (Allahabad, UP). That caused him to move to Naini for further study in secondary classes. In the year 1988, his father got transferred to ITI Mankapur, Gonda, UP, then he came to Mankapur and joined school A.P. Inter College, Mankapur, in class 8th. After completing his High School (class 10th) in 1991, he moved to Shaheed-e-Azam Sardar Bhagat Singh Inter College (SSBS), Gonda in class 11th, and competed intermediate (class 12th) in 1993 from this school.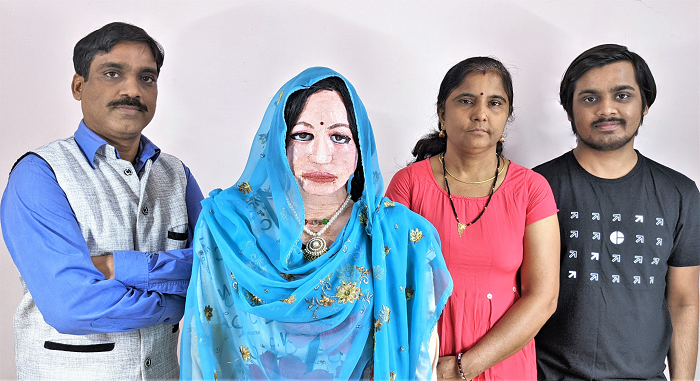 In the year 1993, he came back to Allahabad (currently known as Prayagraj) to pursue his further higher studies from Allahabad University and joined B.Sc.(Bio) while preparing to become a doctor. He frankly shares his failures, that he wasn't able to qualify for the PMT/CPMT exam at that time. Now he realized that he might never have meant to be a doctor. This time a friend of his father (he calls him uncle), Mr. Suresh Gupta, reminded him about his good logical and problem-solving skills, what he experienced about him. Mr. Suresh guided and motivated him towards a course in computer, Master in Computer Application (MCA).
After his Post Graduation (Master in Computer Application, MCA), he joined a famous software company, but he does not prefer to work in such a boring way of working, as he loves sharing knowledge with others, likes to talk, and live with children, so he resigned the company and started working as a computer science teacher in DAV Public School, Nigahi in district Sidhi of Madhya Pradesh. In 2007, he got selected in Kendriya Vidyalaya Sangathan as a PGT (Computer Science) and was posted to Kendriya Vidyalaya, NAD, Karanja (Near Mumbai). This is the first time when he came to his dream city Mumbai. In KV Karanja, he served till 2014 and in 2014 he got transferred to Kendriya Vidyalaya, IIT Bombay.
Here being in IIT Bombay Campus he started his dream project of building a humanoid robot, Shalu. A few years back when he saw Mr. Rajnikant starrer and Mr. S. Shankar directed film "Robot" (Enthiran), got motivated towards building a humanoid robot, keeping a picture of 'Chitti' in mind and thought that "whether it is possible to build such a type of robot in real life?" but at that time it was just a film with great motivational thought. After a few years he saw Sophia Robot, developed by Hong-Kong-based robotics company, Hanson Robotics, he got confidence that such humanoid robot-like 'Chitti' can be developed and started thinking about its possibilities in India.
India, being a developing country, the biggest challenge for him was to find the required robotics components and parts, either it was not available or very costly which were beyond his budget. Then he decides to use waste materials available in his house and other components readily available in the local market like plastic, cardboard, thermocol, wood, cloths, wire, aluminum, etc.
With proper research and analysis, he started his project 'Humanoid Robot Shalu' in the year 2017 and working only in his free time; that is at night after dinner, he used to work up to 3 or 4 am or until he didn't get tired, keeping in mind that he has to go to work in the morning again at 07:10 am. He developed the software and the body single-handedly by himself in his house within the IIT Bombay campus without taking any help and support from others, but was highly motivated and morally supported by his mother-father, wife, and his younger brother Mr. Brijraj Patel.
It took him approx. 3 years to give it a presentable shape; software-wise and hardware-wise. As he is neither Robotics Engineer nor Electronics Engineer, he burned many components during developing Shalu's body, due to using a trial and error method to get the desired output. He spent approx. Rs. 50,000/- (including all burned items/components) but its actual cost is very less than this, because of the use of waste materials.
Robot Shalu has been awarded as the "Most Innovative use of Science and Technology" for the year 2021 by the Jagranjosh Education awards with the hands of the honorable Education Minister of India, Dr. Ramesh Pokharial 'Nishank'.
Robot's name "Shalu" is an abbreviation :
'S' for Scientifically and Technically'
'H' for 'Highly Reciprocal'
'A' for 'Advanced Humanoid'
'L' for 'Language Communicator'
'U' for 'Uniquely designed'
You can say Shalu is a Highly reciprocal Uniquely, Scientifically, and Technically designed, 47 Languages communicating Advanced humanoid Robot.
He shared that his first introduction to computers was in his father's office in 1988 and his interest was developed. The next time he saw a computer was in his school A.P. Inter College, Mankapur in class 8th. It was showcased by a company, all the students were sitting 5 meters away from the computer and only watching and listening to the presenter. Dinesh told he went to the person showing the computer and enquired about the cost. He returned with disappointment after listening to the cost of Rs. 80,000 without asking any further questions.
As an Educator, he is one of the best teachers of Kendriya Vidyalaya and has received KVS Regional Incentive Award in 2019-20.
He has been invited as an Eminent Teacher Educator in the 7th Teachers' Conclave; organized by India Science, Vigyan Prasar, Department of Science and Technology, Govt. of India to discuss the topic of "Science and Technology in our daily life"
He was also invited to the "Science of Happiness" program to give a motivational talk to students of AMITY University and the students worldwide associated with the program. The program was organized by AMITY University, in association with Rajya Anand Sansthan, Govt. of Madhya Pradesh.
He is also invited by the Govt. of Qatar to interact with their students and give a motivational talk about Science and Technology.
Dinesh shared about his hobbies and other co-curricular activities, he has done Prabhakar in Tabla from Prayag Sangit Samiti, Allahabad, completed Acting training from Uttar Pradesh Natak Academy, Lucknow, and remain associated with theaters from his childhood and acted in so many dramas, he also participated at National Level drama competition "Srijan Natya Parve" in 1992, held in Agra.
He is a good Tabla and Flute player, during his schooling, he was able to write names of all 6 members of his family with full addresses on a single rice grain, which was showcased in the show "Surabhi" on Doordarshan Television.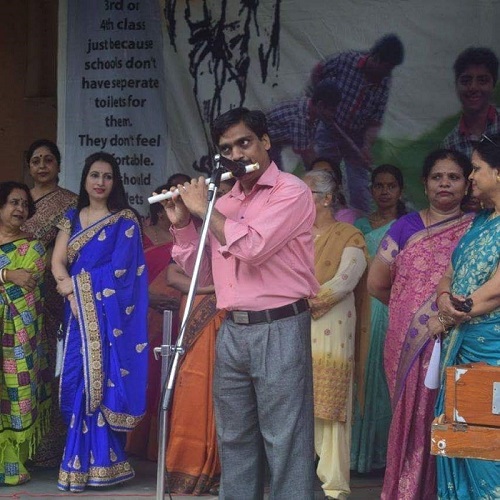 He is a good poet and his poetry is published at the National and Regional levels in Kavya Manjari, Gyan-Manjari of KVS, etc.
He was a good magician also and used to do stage shows during his college life.
So, truly we can say, Mr. Dinesh Kunwar Patel is a genius and multi-talented personality.
Wikipedia : https://en.wikipedia.org/wiki/Shalu_Robot
YouTube : https://www.youtube.com/channel/UCWn2mD6-7jIC3l1cNVmHg3Q
Facebook: https://www.facebook.com/RobotShalu
Twitter: https://twitter.com/Mr_DineshPatel