Siddharth Nirwan is an ENT & Head and Neck Surgeon. He is currently working as an Assistant Professor at the Sawai Mansingh Medical college & Hospital, Jaipur. He is the author of three best-selling horror novels- The Last Witch Trial (2016), Dead Never Die- Based on the rural legends of Rajasthan (2020), Dead People's Town (2021). He organized India's first online horror literature festival- 'Bhootcon' Litfest in September 2020 and is the host of a weekly chat show- 'Talking to Siddharth' where he features personalities from various walks of life. He has been invited on multiple occasions to speak on various platforms including the All-India Radio.
Siddharth Nirwan's second book- 'DEAD NEVER DIE- Based on the rural legends of Rajasthan' has been shortlisted in the final stage of the Sharing Stories Books Awards 2020.
DEAD PEOPLE'S TOWN!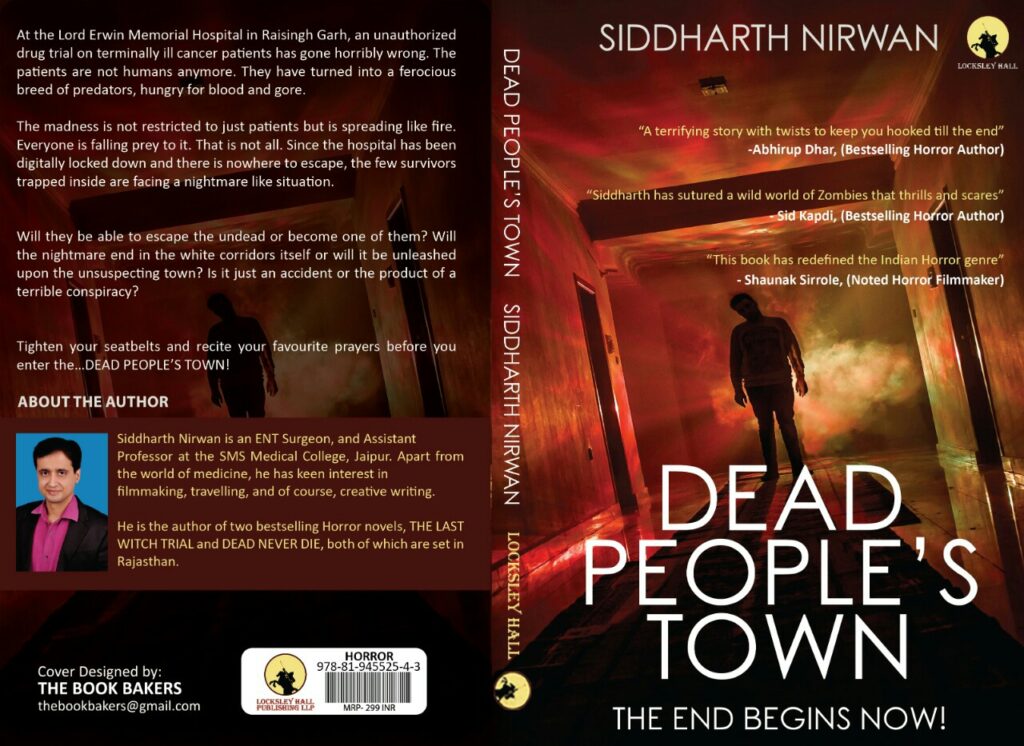 At the Lord Erwin Memorial Hospital in Raisingh Garh, an unauthorized drug trial on terminally ill cancer patients has gone horribly wrong. The patients are not humans anymore. They have turned into a ferocious breed of predators, hungry for blood and gore.

The madness is not restricted to just patients but is spreading like fire. Everyone is falling prey to it. That is not all. Since the hospital has been digitally locked down and there is nowhere to escape, the few survivors trapped inside are facing a nightmare like situation.

Will they be able to escape the undead or become one of them? Will the nightmare end in the white corridors itself or will it be unleashed upon the unsuspecting town? Is it just an accident or the product of a terrible conspiracy? Tighten your seatbelts and recite your favourite prayers before you enter the…DEAD PEOPLE'S TOWN!
DEAD NEVER DIE: Based on the Rural Legends of Rajasthan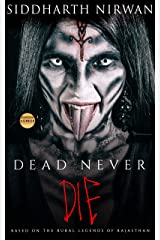 A village, that is abandoned on every 14th of June. Legend has it that deadly witches, or churels, visit it on that cursed night.
Whosoever happens to be there is sacrificed by the churels to enhance their evil power.
A kund, where demons are exorcised out of the possessed people. Legend has it that if a pandit of the kund dies an unnatural death, he comes back unless he is beheaded.
A jungle, in which no one dares to step on a full-moon night. Legend has it that it is haunted by women from a nearby village
who turn into blood-thirsty human bats, or chamgadarni and eat their prey alive.
What if the legends are true and you find yourself entrapped in one of these places?
What if there is nowhere to escape and your worst nightmare is standing in front of your eyes?
And what, if your time is not running out? It is already over.
Strictly not to be read by the weak hearted, Dead Never Die is a collection of three terrifying tales inspired by the rural legends of Rajasthan which will shatter your belief that danger lurks only on the city streets, and serial killers can only be humans.
The Last Witch Trial
In the cold winter of 1916, a young angelic woman is accused of being a witch and executed publicly after subjecting to a fabricated trial in a small town. A century later, series of uncanny and brutal murders are harrowing the town. Few witnesses evince her return, who is back to avenge the savagery done on her.
A young postgraduate visits the town to meet his frail uncle and finds himself collared in the midst of the haunting. A letter reveals the dark history behind the 1916 'witch trial' that links the nefarious act to his ancestry and leave him aghast.
He, with the aid of an occult science expert, must fathom the chiller to endure and salvage the town from perdition before it's too late. Based on the backdrop of innumerable witch trials that have resulted in the homicide of thousands of falsely accused women across the globe, The Last Witch Trial is a mystic thriller, which disbands the frontier between science and supernatural, explicit and occult and ruthlessly exposes the social evil of witch hunting that is still rampant in India and other parts of the world.